I installed this system on my car a couple weeks ago. The installation was very straight forward following the well-written instructions that came with it. The only snag I had was in getting a trigger signal from the Compufire module in my Mallory distributor. The instructions called for the green and black wires from the HyFire to be connected to the red and black wires, respectively, from a magnetic pickup. Well, apparently, the Compufire unit is different from other magnetic pickups out there. A quick search on Mallory's website revealed that the Compufire needs 12V supplied to its red wire, and then the black is the signal. A quick rearrangement of wires and she fired right up!
The features of this box are *really* nice. Everything is programed via the push buttons and digital display on the top, which seems waaaay more user friendly than the "pills" or rotary knobs used by MSD. It comes with 2 rev limiters: a "regular" one for not over-revving your engine, and then a second one that can be used during staging that can be activated with a push button, thus over-riding the first one. You can then "dial in" your launch RPM to achieve the best 60 foot times at the track. It also has a start retard feature to make starting engines that run a lot of advance at idle easier, you can take out up to 10 degrees of timing below 500 RPM's. I have this feature set to put my engine at TDC while cranking and it starts really easy every time. Another feature I am using is the "tach output" signal. It provides a very clean tach signal which you can use for your tach (duh) or other items that need an RPM signal. I have it connected to my Autometer digital tach/shiftlight as well as to my Immovate Motorsports data logging system. I was never able to get a clean enough tach signal from my old ignition to record on the Innovate system, and now I have a beautiful signal. The Mallory box also has a "tach test" function where it will output a tach signal (you can specify the RPM) so you can check the accuracy of your tachometer. I still need to check mine. There are a lot of other features I'm not using now, but will give me "room to grow" in the future. One is a "RPM window" switch, which will put out a 12V signal when the RPMs are between a lower and upper range that you select. This could be used to activate a nitrous system that say you only wanted to spray between 4500 and 7000 RPMs. Likewise, it has a high speed retard feature that can take out timing when you apply 12V to its switch, so you can have it remove timing when spraying, for instance. Another nice feature is the ability to plug a MAP sensor into it for supercharged or turbo applications, and then program in timing retard as a function of boost pressure, say like 1 degree of retard per pound of boost.
As for the power of this unit, it outputs 525V and 135 Millijoules, which is more than enough to power a big ass coil. I elected to go with the Mallory Promaster E-Series coil. All this ignition power lets you run a much larger spark plug gap than you could with a regular coil, I'm running a conservative .040" gap right now (compared to .025" for a regular coil) and could probably run up to .050-.060" of gap. A bigger plug gap creates a bigger spark kernel thus exposing more of the air-fuel mixture to it, resulting in a more efficient burn and more power. I noticed a definite improvement in throttle response and it seems to pull harder. And that's with my mixture still pig rich...
Comparing this box to MSD's Digital 6 box they seem to have almost identical specs and features. What sold me on the Mallory box though was the keypad layout and display for programing, as opposed to rotary switches, and the fact that the Mallory box was $70 cheaper! Hard to argue with that.
The HyFire VI installed under my rear seat: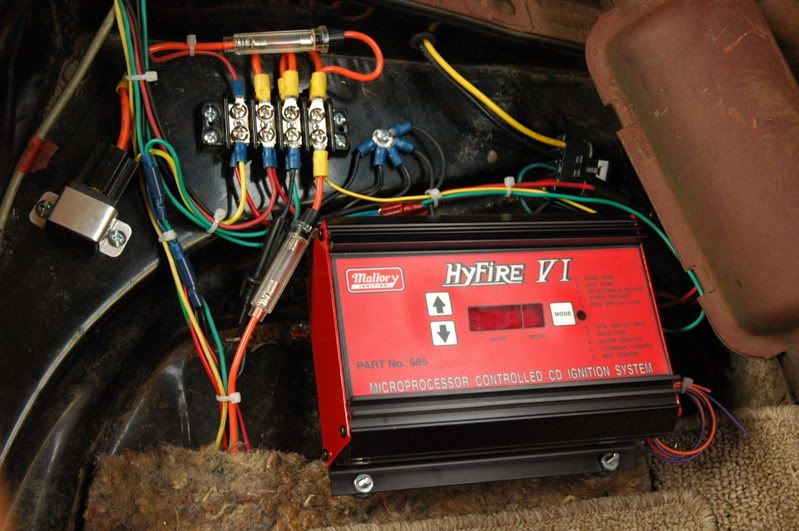 The Promaster E-Series coil mounted in my engine compartment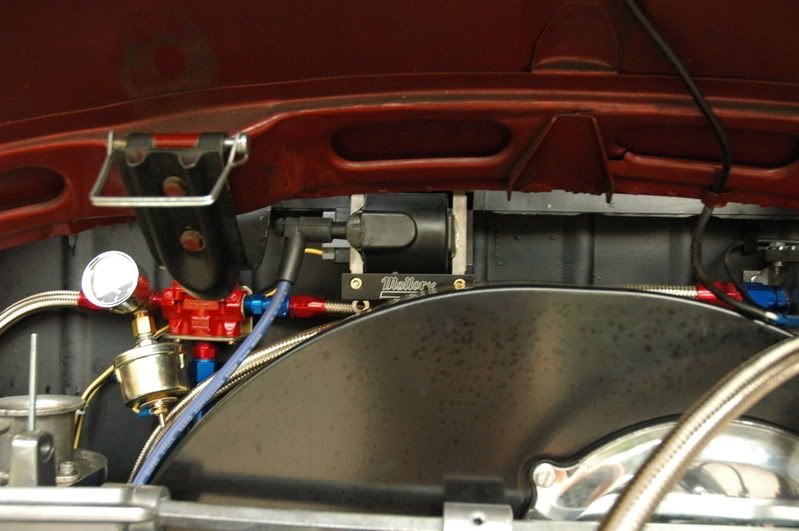 _________________
-Brian
55 Outlaw Oval- 231 hp daily driver

1953 Fleetwood Travel Trailer
2010 FJ Cruiser- The Mountain Goat
30 Ford Model A Pickup Hotrod


Conklin Performance & Engineering